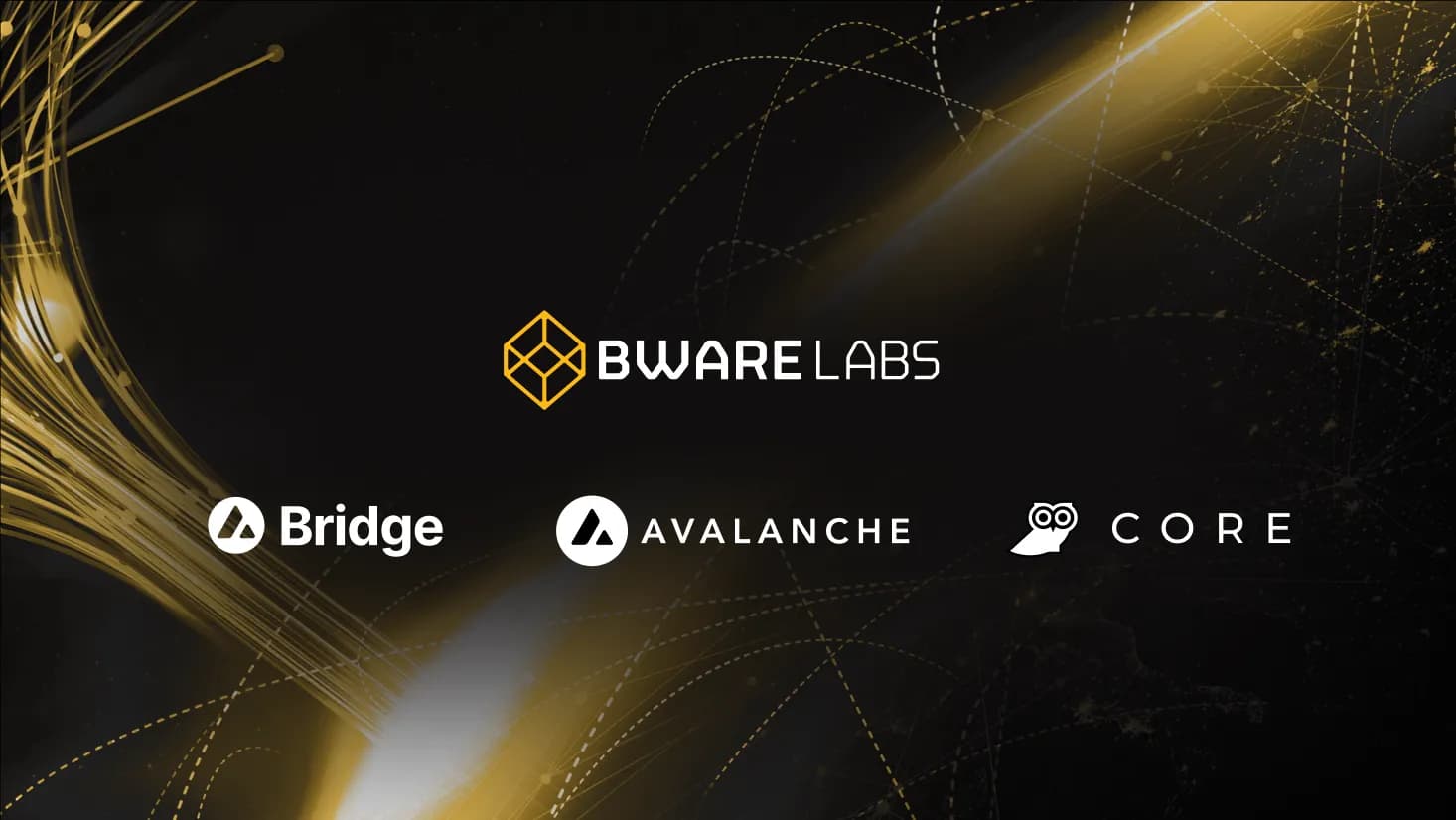 The Bware Labs $INFRA token will be available on the Avalanche Bridge as INFRA.e
Avalanche provides a smart contracts platform able to scale infinitely and process transactions in under a second, on a regular basis. To make the Avalanche advantages available for INFRA holders, and to celebrate our long term collaboration with the Avalanche Network, Bware Labs INFRA token will also be available through the Avalanche Bridge exclusively available on Core wallet. Core is the all-in-one command center for all things crypto, supporting Avalanche, Bitcoin, Ethereum, and all EVM-compatible blockchains. Access Core on mobile, via a browser extension or by connecting to the web portfolio. Thus, holders will be able to bridge INFRA to Avalanche for better transaction fees and staking conditions across multiple devices. Read until the end to find out more!
The Avalanche Bridge is a secure, quick, and low-cost way to bridge assets between Avalanche, Ethereum, and Bitcoin. The Avalanche Bridge is designed to facilitate the transfer of digital assets between different blockchains by providing an efficient connection between them. It uses the SGX Enclave technology, and it enables high transaction throughput and low fees, making it an attractive solution for builders. The Avalanche Bridge also supports cross-chain interoperability, allowing users to seamlessly move assets between the two different blockchains without the need for intermediaries or centralized exchanges.
For an efficient and cost-effective transfer of assets between Bitcoin, Ethereum and Avalanche, the Avalanche Bridge utilizes a Wardens-based system. The system is built upon a relationship between an enclave, which is a private codebase, and eight designated wardens. Bware Labs is one of the initial four Wardens, currently securing $5.7 billion in assets.
As Bware Labs approaches the launch of our $INFRA token, the decision to bridge the token to the Avalanche is a significant move that highlights the company's commitment to expanding its capabilities and providing more value to its users. Avalanche's low transaction fees make it a suitable option considering the transaction fees required by the maintenance of our staking contracts.
For more context, staking in Blast is used as a way of incentivization as well as a means of holding providers accountable for their performance and integrity. Moreover, delegations will be available for token holders so that they can participate and support the protocol. However, staking requires the use of smart contracts, which can be expensive due to high transaction fees.
These fees can be reduced by bridging $INFRA to Avalanche and deploying the staking smart contracts on Avalanche.
By leveraging the advantages of Avalanche and the power of our infrastructure, we are one step closer to becoming a leading infrastructure provider in the Web3 space.
Bware Labs envisions an environment where all Web3 developers have access to reliable decentralized infrastructure and highly performant blockchain development tools, therefore, we are determined to create an all-encompassing ecosystem that supports Web3 builders throughout their entire blockchain journey. This is why the launch of the $INFRA token is a highly anticipated event for the Bware Labs community. The $INFRA token will enable Blast API, Bware Labs' flagship product, to become permissionless. This will open the door for developers to create decentralized applications, and for holders to be able to stake tokens and run their own nodes, or delegate them to other node providers, thus delivering better infrastructure performance through community stakeholders' involvement.
The total supply of 100M $INFRA tokens has been deployed on Ethereum and then gradually bridged to the Avalanche. $INFRA will be available on Avalanche as INFRA.e, as all tokens on the Avalanche bridge end in "e", to help distinguish $INFRA on Avalanche from the original ERC20 token. INFRA.e will be accessible exclusively via Core, a Web3 command center for Avalanche's ecosystem, NFTs, bridges, Subnets or L2s, that allows users to buy, swap, bridge, send, and receive various crypto tokens and non-fungible tokens (NFTs).
Builders who use $INFRA will gain access to a multitude of new opportunities and possibilities by connecting to Avalanche. This includes crucial elements such as faster transaction speeds, reduced transaction fees, and improved scalability, all of which are necessary for any project to succeed. Furthermore, Avalanche facilitates cross-chain interoperability, allowing $INFRA to seamlessly integrate with other DeFi projects on various blockchain networks, thereby expanding its market reach and opportunities.
About Avalanche
Avalanche is a smart contracts platform that scales infinitely and regularly finalizes transactions in less than one second. Its novel consensus protocol, Subnet infrastructure, and HyperSDK toolkit enable Web3 developers to easily launch powerful, custom blockchain solutions. Build anything you want, any way you want, on the eco-friendly blockchain designed for Web3 devs.
Website | Whitepapers | Twitter | Discord | GitHub | Documentation | Telegram | Facebook | LinkedIn | Reddit | YouTube