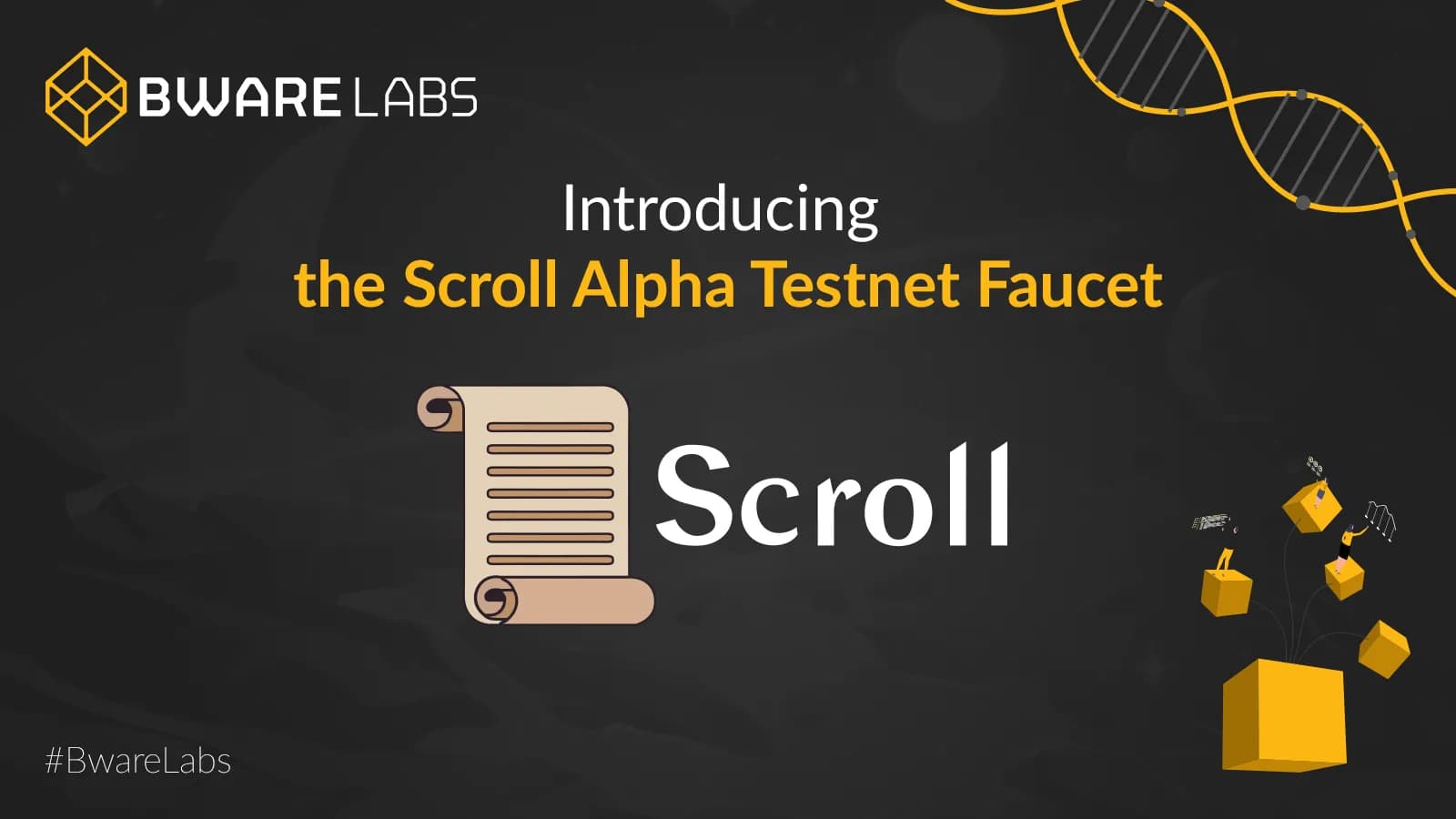 Scroll Alpha Testnet Faucet available with Bware Labs Faucet Services
Scroll is a zkEVM-based zkRollup on Ethereum that enables native compatibility for existing Ethereum applications and tools. By utilizing zkEVM as its core element, Scroll showcases the natural implementation trace of the Ethereum Virtual Machine (EVM). Scroll will employ a decentralized proving network, resolving the challenge of balancing security and scalability through zero-knowledge technology. This offers blockchain users and developers the optimal choice by minimizing trust assumptions, delivering fast confirmation of transactions, and facilitating a seamless transition from the underlying layer.
The primary objective of Scroll is to enable scalability and affordability within the Ethereum ecosystem, making it feasible for everyone to use, while also prioritizing security and user-friendliness for the average individual. It is essential to uphold Ethereum's fundamental traits of decentralization, which contribute to its remarkable power, while simultaneously pursuing advancements in blockchain development.
In an industry as rapidly changing as Web3, developers need up-to-date access to various resources and networks. That's why Bware Labs is constantly evolving to meet the needs of Web3 developers and users.
With the integration of Scroll Alpha Testnet Faucet, we add another tool to support blockchain developers in building in the Web3 space.
The Scroll Alpha Testnet comprises two components: the Goerli Testnet of Ethereum and the Scroll Alpha test network. Goerli operates as an Ethereum test network that utilizes PoS-based consensus. On top of Goerli, Scroll Alpha is deployed as a testnet for zero-knowledge rollup. Within the testnet, several demo applications are pre-deployed, including a bridge connecting Goerli and Scroll Alpha that utilizes the Hop Exchange UI, a block explorer specifically designed for Scroll Alpha using Blockscout, and a rollup explorer.
If you're a blockchain developer interested in starting your journey on the Scroll Alpha Testnet network, Bware Labs provides a simple and efficient way to acquire testnet tokens, with a very user-friendly user experience. By utilizing our Scroll Alpha Testnet faucet, you can effortlessly request tokens, enabling you to concentrate on developing and testing your smart contracts and applications without the hustle of obtaining tokens.
In order to use the faucet, enter your wallet address and click on the Claim button. It's important to keep in mind that you can only claim once per 24 hours. You can also request extra funds by signing in with your GitHub account, which has to be at least 30 days old in order to qualify you for the claim.

We firmly believe that Bware Labs' efforts sync with Scroll's scope of empowering Web3 and fighting for decentralization and mass adoption, therefore we constantly look into finding new ways to support the Scroll #BUIDLers community. With the integration of Scroll within Blast API, we opened the way for developers to create their own projects and generate dedicated endpoints on the Scroll network. Developers also have access to Public APIs that can save them time and resources when they do not need to build everything from scratch. Furthermore, after the launch of the INFRA token, node providers can onboard nodes on Blast on the open slots for Scroll Alpha Testnet or stake INFRA tokens on one of the Scroll Staking Pools.
So now, it's up to you to go claim your test tokens and start building some awesome dApps!