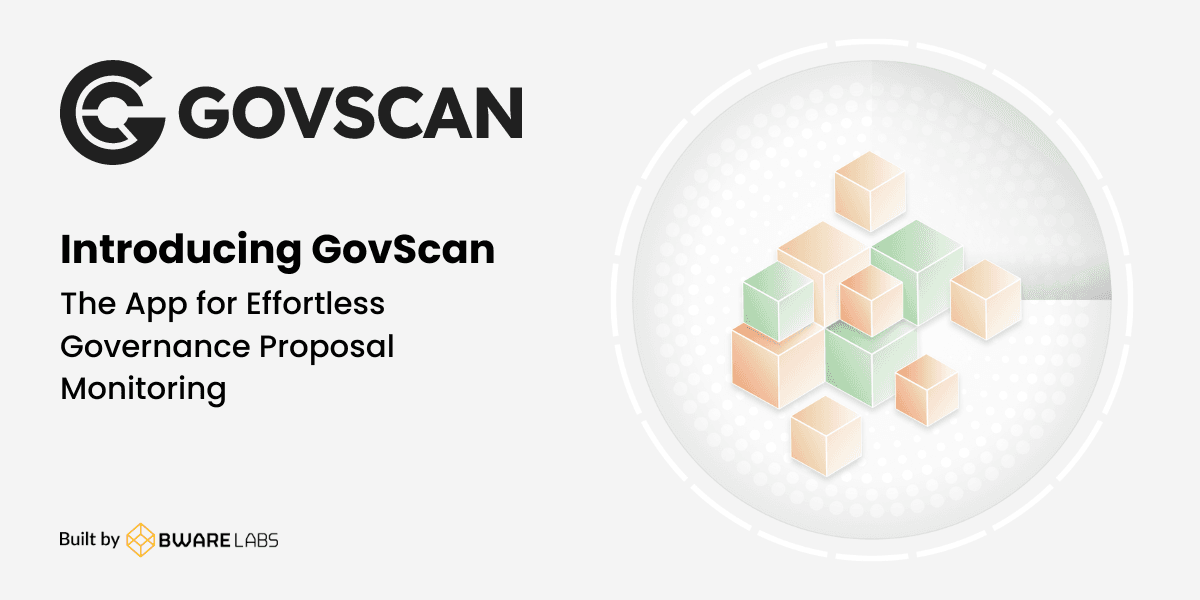 GovScan: Governance Monitoring, Simplified
Stay up to date on governance proposals and never miss a beat with GovScan!
Bware Labs introduces GovScan, a hub created to broaden governance transparency and participation through effortless monitoring of blockchain governance proposals.
GovScan is the latest product released under the Bware Labs umbrella. Designed for tracking governance proposals on multiple blockchains, GovScan eliminates the back-and-forth of keeping up with protocol updates on various platforms and mediums by bringing all proposals in a single platform. Governance participants can stay up to date with new proposals and crucial voting timelines through real-time notifications on their preferred communication channels.
Currently, GovScan can be integrated with Slack, Discord and Telegram. The available notifications include real-time alerts concerning the creation of new proposals, impending voting deadlines, and finalized voting outcomes. Six chains have been integrated on the first release – Agoric, Aptos, Archway, Injective, Osmosis and Secret Network – with many more to be supported within the following months.
How Do You Use GovScan?
First, go to https://govscan.live and log in with your Google account.
Once signed in, you can manage your channel integrations and notifications in the Notifications Settings panel.
To configure, you will need to provide a webhook URL (Discord & Slack) or a chat ID (Telegram). You can obtain them following these instructions:
In order to receive notifications on governance proposals, once your environment is set up, you'll need to subscribe to your chain of choice.
Once subscribed, you'll automatically start following all active proposals as well as future ones. You have the option to unfollow any proposal should it not interest you.
And the best part? GovScan is fully free, with all functionalities and features available from the get-go!
GovScan is still in its early stages, so for more information on the product check out the comprehensive documentation available here and stay tuned for future iterations.
Moreover, we value user feedback and are constantly working to cover as many community needs as possible. If you have ideas for improvements, or you have any suggestions for new integrations please share them with us at [email protected].