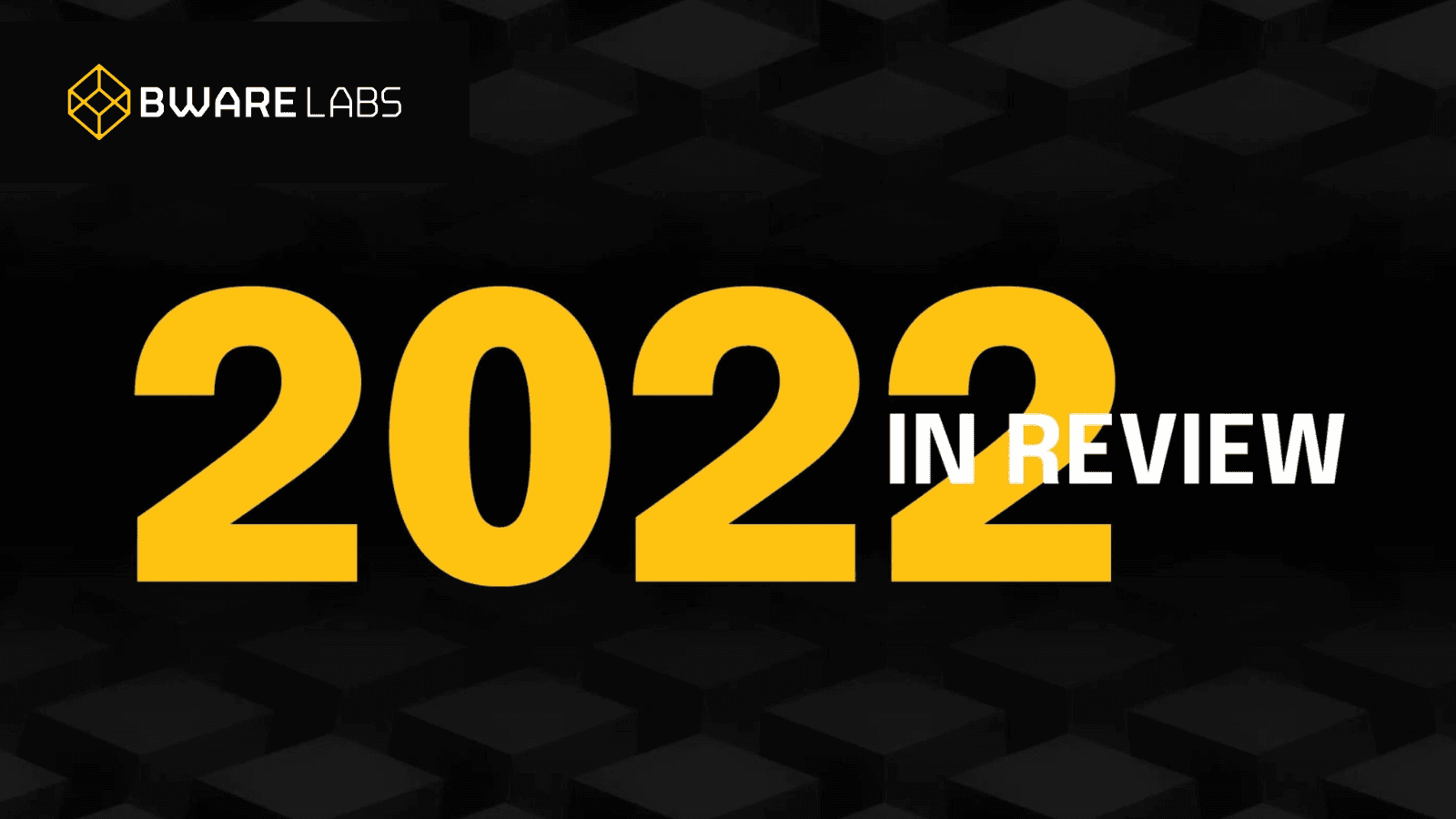 Bware Labs — 2022 in Review
Like its 10-years-ago counterpart had announced itself to be, 2022 felt almost like a small apocalypse, accompanied by a couple of scattered olive-bearing doves. With world security being seriously threatened, inflation reaching historical levels, stock market taking a dive, Web3 was not spared. From the huge shipwrecks such as the whole Terra-Luna fiasco, followed by the FTX-Alameda collapse, to a couple of shining moments of increased adoption, as Google became more and more involved as validators on various networks, 2022 was a year of duality in the blockchain industry.
Fortunately, we held our own during these rocky times — after all, any respectable spaceship crew must go through an asteroid belt every now and then. In retrospect, 2022 was an actually successful year for Bware Labs, full of new releases, met milestones, and new partnerships that we're glad to present in this Year in Review.
We released our Blast API platform, which proved a real success. With 17 integrated networks and a state-of-the-art user experience, Blast has successfully paddled through the vast space of Web3 ever since its launch.
We are successfully serving half a billion requests daily, from over 8000 active endpoints and more than 5000 developers. Blast also includes a Public API feature, a developer SDK, and a completely revamped user-account experience, with multi-chain payment, Metamask, Wallet Connect integrations, and System Notifications.
Houston Incentivized Testnet was launched this year and thanks to our Houston Crew — the participants in the Launch, Orbit, and Landing phases — Blast is now a couple of steps away from decentralization.
Secondly, as we're firm believers in the idea that decentralization implies cooperation, on the validator services side we kept on adding new projects in our portfolio, expanding the total of Web projects that we support as validators to 22 and reaching a TVL of more than $200 million.
Furthermore, we have released the Aptos Snapshot Service, as part of our efforts to ease the development process for #BUIDLers on the Aptos Network. We have also developed a smart contract that allows delegations within the Aptos network and our proposal was accepted by the Aptos team and waiting to be integrated within the projects' core framework.
Last but not least we've set ourselves up to be able to support dedicated App Chains services for Avalanche Subnets and Polygon Supernets, as well as custom indexing services on the Klaytn Network.
Another important thing worth mentioning is that we literally doubled our team. Over 40 like-minded talented individuals comprise the current Bware Labs lineup, all skilled space cadets aboard this mothership that grows and develops within this newly formed universe of Web3. We're still delivering and having fun while doing so, and our numbers and recognition stand as proof (of quality *wink*) — just like last year, what else could you really wish for?
We're humbled and grateful for our amazingly supportive community, without whom we would not be able to progress at the rate at which we are currently. Whether you're here from the start or you've just joined this year on any of our channels, thank you so much for your interest and implication.
As for 2023, who knows what the future holds? One thing is certain: this is just the beginning for us. We're confident that no matter what the new year brings, we'll most certainly make it through gracefully. After all, as Captain Jean-Luc Picard puts it, "there is a way out of every box, a solution to every puzzle; it's just a matter of finding it."
Happy New Year from the Bware Labs Team!